Thomas Faerber (II) : A conversation about the Collection
Pour lire cet article en français, cliquer ici
"The collection is eclectic," says Thomas Faerber. I purchase what I like. It can be antique, modern or contemporary ".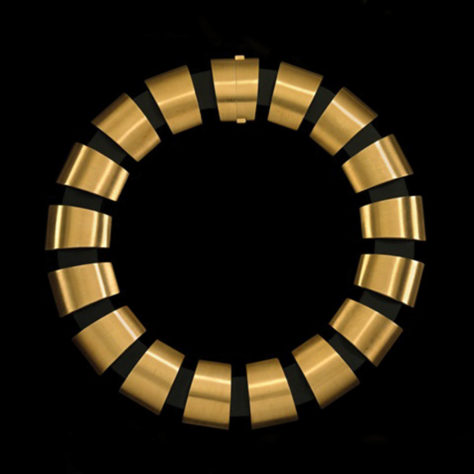 Jewelry, watches and precious objects make up for this collection, which began in the 1970s with "a few pieces of lesser importance". Over time and through the various fairs, Thomas Faerber regretted having sold certain pieces. « This, I believe, is how the collection started. » He adds that even today, most of the pieces that he and his associates buy are intended to be sold: « I remain a dealer at heart. « 
Do you plan to exhibit your collection one day?
I prefer to lend parts of it.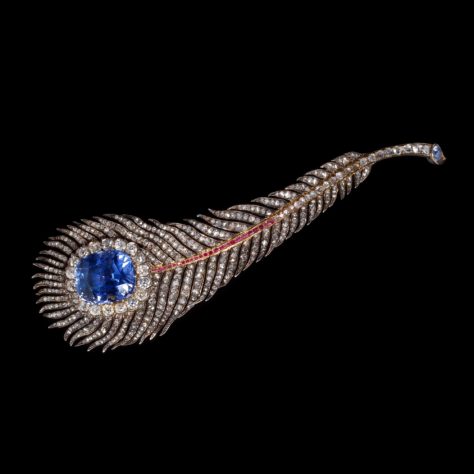 The great Houses of Place Vendôme and the museums are mostly aware of this and don't hesitate if needed to ask me. Some of you may have already admired this brooch during the « Chaumet en Majesté » exhibition at the Grimaldi Forum in Monaco in the summer of 2019? It was also featured at the Beijing exhibition.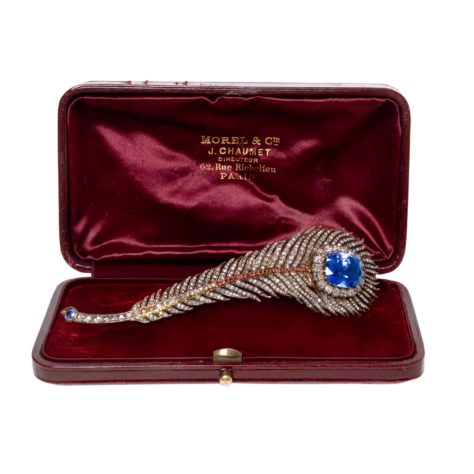 At the beginning of September, Thomas Faerber left an exceptional necklace in emerald drops and diamonds designed by Jacques Arpels in 1950, as well as a pair of matching earrings, on loan for the Pierres Précieuses exhibition at the Museum of Natural History (MNHN) in Paris.
This set belonged to Maharani Sita Devi of Baroda (1917-1989), wife of Maharaja Pratapsingh Gaekwar.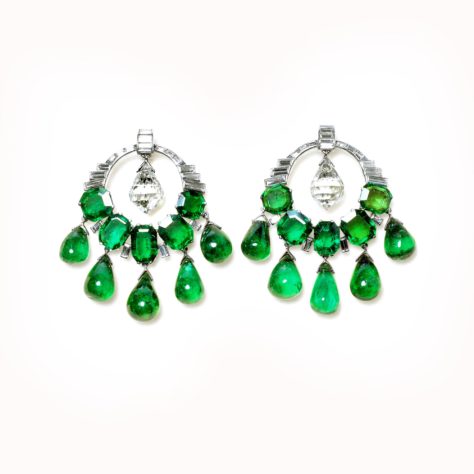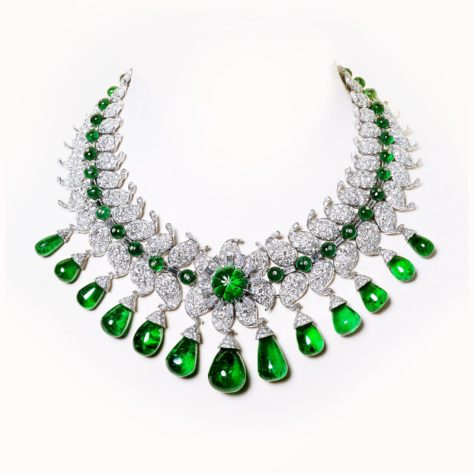 Sita Devi had an unrestrained passion for jewelry and possessed extraordinary gems which she drew from the Baroda treasury. Some of these precious stones date back to Mughal times. In the latter part of her life, the Maharani saw her jewelry dispersed during an auction organized by Crédit Mobilier de Monaco on November 16, 1974. The emerald and diamond half-set created by Jacques Arpels was part of a private collection before Thomas Faerber acquired it at an auction in May 2002.
Almost twenty years later, the collector continues to admire the design and the gems of this magnificent set that he considers exceptional.
Do you have a favorite jeweler?
I have great admiration for the work of Lalique, Vever, Cartier and, today for JAR – but one of my great heroes is Frédéric Boucheron (1830-1902)!
The tremendous quality of the execution of the pieces created under his direction, the human value of the character, his sensitivity, the fact that he was so involved in the profession and that he was keen to help younger generations aroused my admiration.
That is why the first major acquisition in my collection was a Boucheron necklace.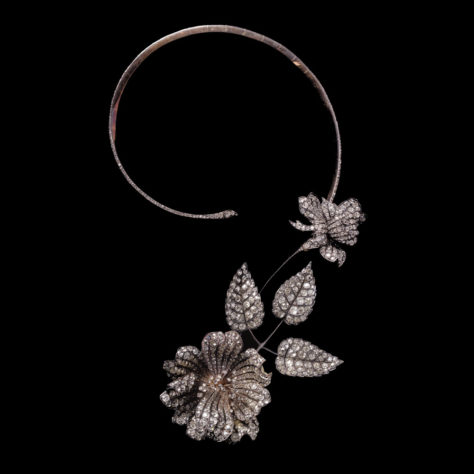 The first drawing of this necklace made by Paul Legrand, main designer of the House of Boucheron at the time of Frédéric Boucheron, dates from 1879. It then took a few years to carry out this project and invent a technique which made it possible to bend and thread the metal around the neck, without the diamonds jumping under the pressure of the movement. Achieving this extraordinary flexibility was an incredible challenge for the workshop. It was only in 1889, during the Universal Exhibition in Paris, that Frédéric Boucheron officially presented his technical innovations, including engraved diamonds and the so-called « Point d'Interrogation » (Question mark) necklaces. The jeweler won the « grand prix » there – the highest distinction after the gold medal – for his remarkable work, and was soon after made an officer of the Legion of Honor.
« Spring collars » (another name for this invention) impressed critics who described them as "revolutionary"! explains Boucheron's Heritage Director, Claire de Truchis-Lauriston. She also draws our attention to how much Frédéric Boucheron was attentive to the comfort of his clients, who at the time had to have a maid to dress and adorn themselves, in particular with their choker (dog collar) so difficult to attach behind the neck. Frédéric Boucheron certainly wanted to free them from constraint. The « Point d'Interrogation » necklaces come without a clasp and most have a central part that can be transformed into a brooch or hair ornament.
Almost all of these necklaces represented nature: flowering branches of acacias, plaine trees, lotus flowers, ears of wheat, peacock feathers, ivy leaves, poppies, snakes… The necklace that Thomas Faerber owns is made up of a blooming rose, surrounded by three leaves, topped with a a rose bud about to bloom.
To this day, this is the only "Point d'Interrogation necklace" in its original state.
"When this necklace was put on sale in Paris in the Eighties at Drouot, says Thomas Faerber, it was estimated at a reasonable price, but during the sale, the bids flew – I had had a formidable opponent in front of me! Nevertheless, I won the bid and this necklace now belongs to my wife.  »
Is there a gem that particularly appeals to you?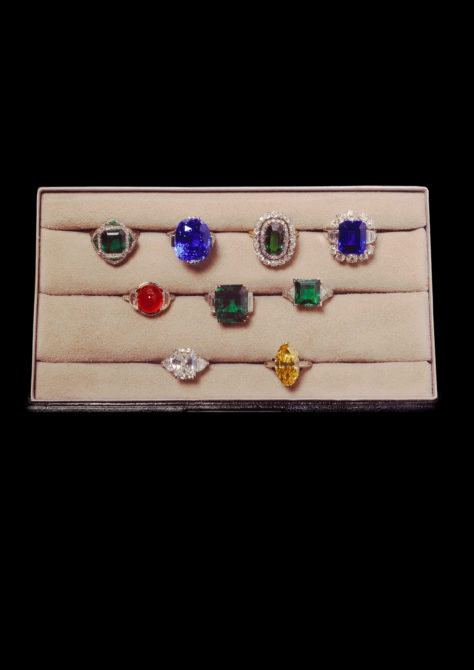 I don't have a favorite stone; nevertheless there is one that has always fascinated me, is the alexandrite, the color change variety of chrysoberyl which has the particularity of changing colors depending on the light (green in daylight, red under a lite candle).
Above, an alexandrite of almost 8 ct put on sale last June in Vienna at the Dorotheum. Estimated between € 13,000 and € 16,000, it was sold for € 115,300.
I'm still trying to get chrysoberyls, but their prices are prohibitive. I took a huge risk to get it, because it truly had a very nice color-change. Fortunately, it was another who got it, he said with a smile.
What type of jewelry is particularly sought after by dealers today?
I would say the tiara.
In the 1970s, tiaras were unsaleable, we bought them to take them apart. It reminds me of an anecdote: in the 90s, there was a beautiful tiara for sale at Christie's. I admit, I had done my calculations to make five brooches, three pairs of earrings … I won the bid and the tiara was delivered in a beautiful initialed Chaumet case. I thought maybe I wasn't going to take it apart right away, he laughs. I wrote to Madame Béatrice de Plinval, Chaumet's Heritage director, to tell her that I had been able to acquire this tiara. This tiara has since become one of the centerpieces of their Heritage Collection.
Today tiaras are a real craze, e.g. this sale on June 10, 2020 at the Dorotheum, still, a Cartier tiara in aquamarines and diamonds mounted on platinum. Characteristic of the Art Deco style, it was created in London by Jacques Cartier around 1930-35. Estimated between € 34,000 and € 70,000, it sold for € 582,800 (more than seventeen times over its low estimate!).
You also own exceptional objets in the collection. Are there any that you would like to present?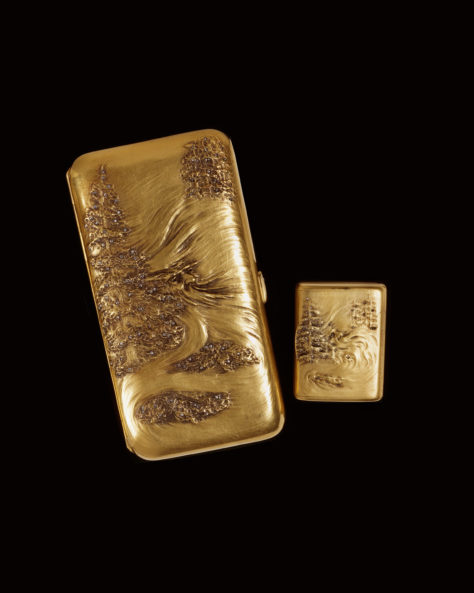 This rectangular cigarette case with rounded corners depicts a winter landscape around the ghostly face of Ded Moroz, the "Grand Father of Frost" or Russian Father Christmas.
« I don't smoke, » says Thomas Faerber, « but the elegance of this set appealed to me. »
The cigarette and matching case, both illustrate the technique of samorodok, a Russian word meaning « nugget » or « virgin metal. » At the end of the 19th century, this technique was used by Russian silversmiths and in particular by Fabergé who applied it when creating precious objects.
Obtained by heating silver or gold to a temperature near the melting point and then suddenly cooling it in water, the samorodok produces a textured effect on the surface of the object, which suggests snowy forest paths in Switzerland, sand games in the desert, the lunar surface … Everyone is free to let their imagination run wild!
This technique is nevertheless very difficult to master, the samorodok is rare.
Will you create a Faerber museum in Geneva?
I believe my collection should stay in the family company. I am fortunate to be surrounded by two children and five grandchildren; my daughter Ida Faerber is very attached to our legacy, she'll guard the temple.
***
Visual at the top of the article : A Joël Arthur Rosenthal ring that belonged to Marie-Hélène de Rothschild (1927-1996).
Recently acquired at the Pierre Bergé & Associés auction on Tuesday, December 15, 2020, Lot 100. This 18K (750) yellow gold ring is adorned with a troidia-shaped diamond weighing 6.31 carats.The ring is covered with a mosaic of agate geode studded with shards of diamonds. Work from the 1980s. Signed JAR.
Photo credit Katharina Faerber
***
Many thanks to Myriam de Mareuil for her very careful proofreading of my translation
***
Thomas Faerber SA
29, rue du Rhône
1204 Genève
Switzerland
Tel: +41 22 318 66 33
Gourdji
1 rue de Châteaudun
75009 Paris
France
Tel: +33 1 48 78 84 65
gourdji@faerber-collection.com
Faerber Inc.
589 Fifth Avenue, Suite 1103
New York, NY 10017
U.S.A.
Tel: +1 212 752 42 00
ny@faerber-collection.com
Faerber-Collection (HK) Limited
1503 15/F, 9 Queens Rd.
Central – Hong Kong
Hong Kong
Tel: +852 2520 2521
hk@faerber-collection.com
Geneva International Gem & Jewellery Show
Palexpo Genève Halle 7
Route Francois-Peyrot 30
1218 – Le Grand-Saconnex
Genève. Suisse