The renaissance of Suzanne Belperron : an interview with Olivier Baroin
[section_title title= »Olivier Baroin and the rebirth of Suzanne Belperron »]
How did your affiliation with Madame Belperron come about?
By an incredible twist of fate!
I had been a jeweler since 1987 and an expert in antique jewelry since 2001. At that time I already had a great admiration for Suzanne Belperron whose work I knew thanks to my friend Miriam Mellini, pearl merchant, who is passionate about old jewels and Belperron amateur enthusiast.
One day in December 2007, I was sketching a project in front of a client and he looked at me and said: « It's funny to see you draw this way, my father just inherited the estate of a jewelry designer ». I dared to ask the name of this designer. The customer answered me, obviously uncertain: « maybe Josiane Duperron ». My blood turned and I calmly asked him, « Are you sure? Could it possibly be Suzanne Belperron? « .
At the time, we thought that Suzanne Belperron had burned her archives while she was alive, as Ward Landrigan had explained in the New York Times in August 1998.
The client invited me to visit, the following day, a small apartment located at the foot of Montmartre, which had not been opened for nearly twenty-four years. Stored in this apartment were all the belongings of Madame Belperron. I went there very early in the morning, before the junk dealers came to empty the premises, as an auctioneer had informed the heir that the contents were worthless!
I had no idea what it was worth, but I suspected that what this small apartment contained was priceless. And rightly … there was the contents of this woman's life stored pell-mell: her furniture and decorative objects, including living room furniture that appeared to be designed by her friend Marcel Coard, decorator and set designer from the 1930s, her table service, her tablecloths, a lot of Asian art … all covered in a thick layer of dust!
We took an inventory of the contents and then we came to an agreement to purchase Suzanne Belperron's personal belongings. The heir was a great gentleman, a very straightforward and loyal man, passionate about art, having come from a family of painters. Once he had realized who Suzanne Belperron was, having greatly admired the pieces he had seen, he wished that Suzanne Belperron, who was then somewhat forgotten, should receive new recognition. It was this man, heir to Mme Belperron's legatee, who suggested that I write a book about her work. Sufficed to say we owe him a lot.
He died a few days after the sale of the personal jewels of Suzanne Belperron, which took place Geneva in May of 2012, reassured as to the legacy of the work of the designer. Prior to his death he had read with infinite attention the book I co-wrote with Sylvie Raulet, entitled 'Suzanne Belperron', which was published in August 2011.
It is a very romantic story!
Indeed, the odds were slim that I would stumble across the personal papers of Suzanne Belperron! Moreover, the daughter of the heir hoped, one day, to make a film retracing Belperron's life and her career. There is so much to tell: her personal story, her creative genius, her famous clients, her estate, the discovery of personal archives, the recognition she enjoys today and so much more …
When you rediscovered Suzanne Belperron's personal archives in December 2007, it was twenty-four years since the designer had stopped working. What remained of her work?
Suzanne Belperron officially stopped working in 1975, but in reality she continued to create pieces for her most favored clients and friends virtually up until her death in March 1983.
Once I had acquired her personal archives, I began with the important task of tracing the jewels. Through researching auction results, I realized that 90% of the jewels by Suzanne Belperron had not been attributed to her, regardless of the period in which they were made. The expert authority on René Boivin made virtually no distinction between Boivin and Belperron. Based on the assumption that Suzanne Belperron began her career at Boivin as a « young saleswoman » (sic) before moving under the leadership of Jeanne Boivin, the certificates of authenticity didn't differentiate between her work at Boivin, the house in which she had worked from 1919 to 1932, and the next forty years of her career.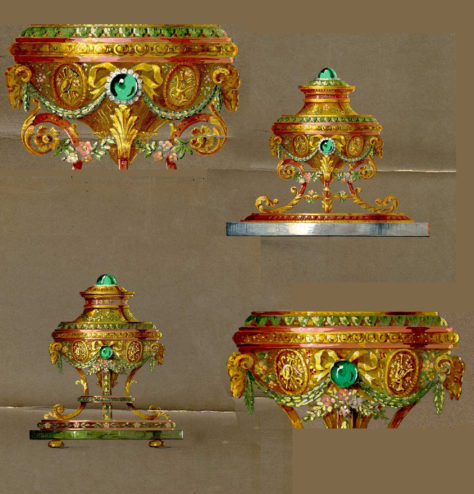 Today we know that Suzanne Vuillerme, after obtaining the first prize at the Ecole des Beaux-Arts in Besançon for a watch design featuring champlevé decoration, entered René Boivin in 1919 not as a « young saleswoman » but as a « model-designer » before becoming in 1924 co-director of the House and marrying Jean Belperron.
It is also now recognized that René Boivin, prior to the arrival of Suzanne Belperron, was a manufacturing workshop, which produced pieces for other jewelry houses. It was a family workshop, which had bought up other Parisian workshops in the late nineteenth century, in order to acquire the best craftsmen and equipment.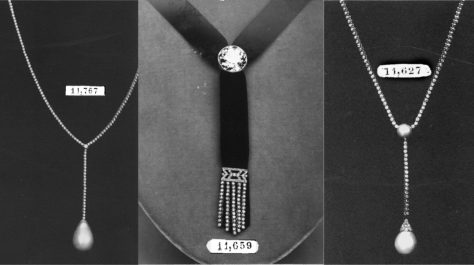 For example, these three necklaces, photographed above, which are of relatively classic design (diamond-set with pearls) were manufactured in 1912 by René Boivin for Boucheron. I am very grateful to my friend Claudine Sablier, curator of the Boucheron archives for sharing these images with me. In 1912, René Boivin moved to 27 rue des Pyramides, with reception rooms that adjoined his workshops. However, the fact remains that the house gained its notoriety only after the arrival of Suzanne Belperron. In a letter from Jeanne Boivin of November 1923, that Suzanne Belperron carefully preserved, she writes that Suzanne « is now a necessary active force and holds a great place in the artistic life of the house René Boivin ». As such I challenge anyone to show me a modernist work that was created Mr. Boivin!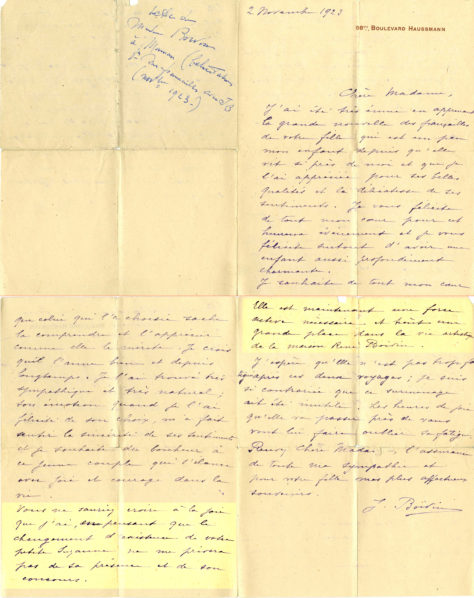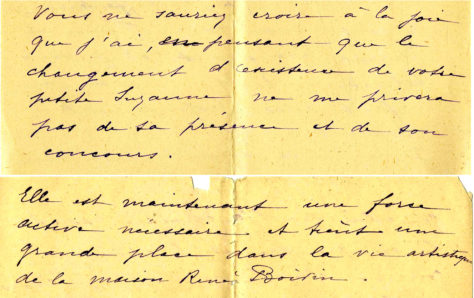 How did you go about reinstating the work of Suzanne Belperron?
Many at the auction houses have helped with my research – especially Aguttes. Philippine Dupré la Tour agreed to contact some of her "selling" customers. If a jewel appeared to me to be by the hands of Suzanne Belperron , then they were asked if they would agree to give us the names of their ancestors, and any information as to whether they were purchased at René Boivin or Suzanne Belperron.
This allowed me to go back to the archives and see if I could find the seller's family. It allowed me to go back in time. I soon learned many jewels sold at auction under the name of Boivin, were actually pieces ordered from Suzanne Belperron by the seller's family after 1932.
I am very grateful to Philippine Dupré La Tour for her cooperation as well as her trust – auction houses are normally very secretive. David Bennett was also incredibly helpful. He was immediately supportive of the book project and consequently Sotheby's made their resources available, worldwide, so that the owners of Belperron jewels could have their pieces recorded, valued and photographed. I am very grateful to David Bennett and Claire de Truchis-Lauriston, then the head of the jewelry department in Paris. They had the courage, and the strength, to take that risk, while others would have been fearful of destabilizing the market.  Sotheby's was incredibly supportive of the book.
With the discovery of the Belperron's personal order books, it allowed her pieces to be formally authenticated. Has it helped propel Belperron's position in the auction market?
When my book was published, the jewelry world, (the auction houses in particular) became aware that Suzanne Belperron and her universal legatee had preserved the archives, consisting of about twenty order books, that Belperron maintained and kept. They date from 1937, and contain the names of 6,730 customers and nearly 45 000 appointments!
As a result, it became possible to attribute the jewels – if one had the last name of the client and/or their family or associates. The order books end in 1974. However, later, between 1974 and 1983, various letters testify to the fact that Suzanne Belperron remained active.
I began to work on tracing the provenance back to the original orders, to reestablish the work of Suzanne Belperron and to reattribute the pieces she had created over a period of fifty years. My certificates ended up clarifying the auction market for Belperron. Her position in the market continues to grow and auction prices for her jewels are almost on a par with those from the biggest jewelry houses.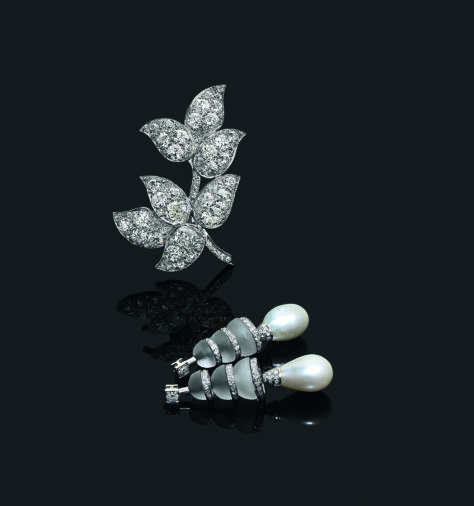 How do you authenticate a jewel by Suzanne Belperron?
Suzanne Belperron never signed any of her pieces, neither at René Boivin nor at Herz where she became the sole decision-maker and creator in her own right.
At first I was particularly vigilant! When I was in doubt and when there was no factual evidence, or documented order, I abstained. Over time, knowing that I have many elements: studio models, plasters, drawings and sketches, photos and press articles countersigned by her hand and of course the personal order books, I managed to crosscheck. My eye was formed by the twenty years I had spent in the studio. As a jeweler, I am familiar with jewelry making; I know how a jewel is constructed, mounted, adjusted etc…
But it's mostly the years spent authenticating and the accumulated experience – I've searched, searched again and again! – that allowed me to refine my expertise.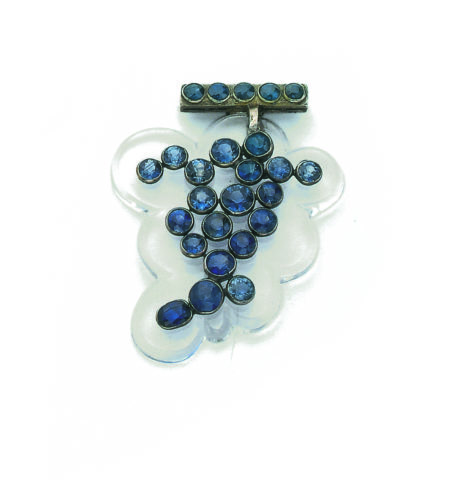 At the very beginning, the quality of workmanship of certain pieces was almost closer to that of costume jewelry, with pieces executed in silver, than high jewelry – although I should clarify that during this period costume jewelry was of high quality and well made.

Between 1942 and 1955 saw a return to high quality production, reaching its apex in the 1950s. All jewelry is made by hand using precious metal wire, sheets and soldering.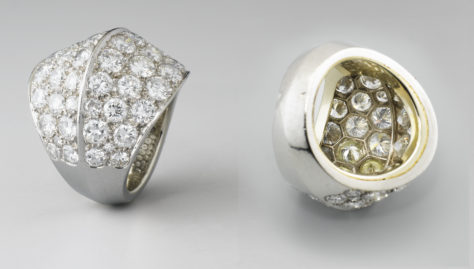 Then, between 1955 and 1970 the manufacturing techniques begin to evolve. These new techniques mean the quality is no longer the same but not because of a lack of skill from craftsmen. Lost wax casting begins to take over the market, resulting in the acceleration of production. We are entering a new era of industrialization of jewelry, which resulted in Belperron jewels still remaining, in part, handmade as well as now being cast.
In the 1970s and 1980s became easier to execute, but those that were unable to be cast remained entirely handmade.
In 1932, the Groëné et Darde workshop was working exclusively with Suzanne Belperron and it remained exclusive right until the end. The various workshop marks allow us to date, approximately, the jewels by Suzanne Belperron and, at the very least, to authenticate them.
– From 1928 to 1955, the company bears the name of Groëné et Darde (Emile Darde and Maurice Groëné). The workshop mark has the initials GD with a fleur de lys in the center, which is surmounted by surmounted by Ste.
– From 1955 to 1970, the workshop took the name of Darde et Fils (Emile Darde and his son Michel). The workshop mark shows the initials DF with a fleur de lys in the center.
– From 1970 to 1974, the workshop is known as Darde et Compagnie (Michel Darde) and the workshop mark has the initial D a fleur de lys, surmounted by Ste, followed by the letters CIE.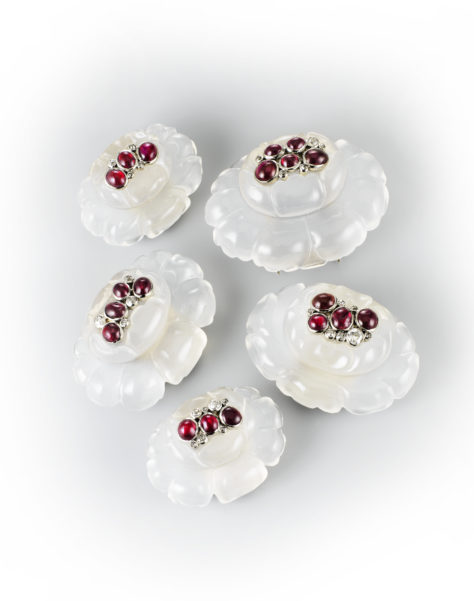 In cases where there is no record of an order in the archives, only the extraordinary skill of the lapidary Adrien Louart (1890-1989), to whom Suzanne Belperron entrusted to work on carving her hard stone pieces, makes it possible to authenticate the Belperron pieces.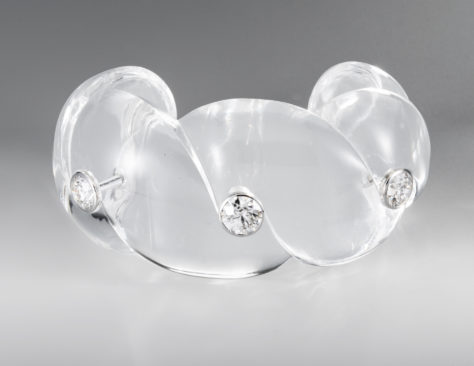 What about certificates?
In September 2008 when I acquired all the archives, discovered the previous year in Montmartre, the last universal legatee authorized me to safeguard « the future expertise of the work realized by Madame Suzanne Belperron ».
That's how I started to authenticate jewelry for Sotheby's, Aguttes, Artcurial, and so many other auction houses …
Today, I establish the certificates (or simple testimonials in the instances where I believe a jewel was created by Suzanne Belperron, but that I do not have the documentary proof in the archives!). For the majority of collectors and auction houses, including American auction houses (most recently Fortuna in New York) I am sometimes considered as the gatekeeper, though I would prefer to be thought of as guardian of Madame Belperron's memory, especially since I now devote practically most of my time to her work.