The renaissance of Suzanne Belperron : an interview with Olivier Baroin
[section_title title= »Beginnings, life and legacy of a singular style »]
Suzanne Belperron: chapters of a life
Madeleine Suzanne Vuillerme was born in the Jura on the 26thof September 1900. At 18 she won the first prize at the Ecole des Beaux-Arts in Besançon, and soon after moved to Paris. In March 1919 she was hired as a modelist-designer by Jeanne Boivin, the widow of René Boivin who ran the eponymous house.
Five years later, she was promoted to co-director of Boivin. The same year she married Jean Belperron (1898-1970), an engineer from Besançon, whose name she took. The couple did not have any children.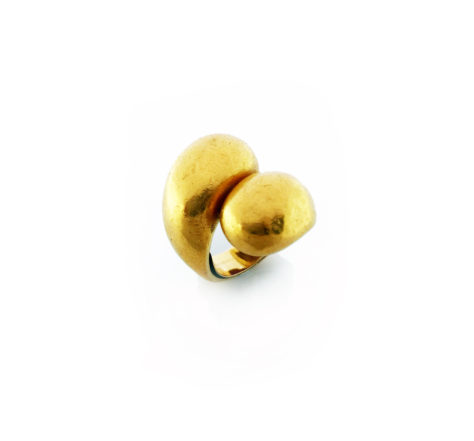 In 1932, Suzanne left Maison Boivin to join Bernard Herz, a great dealer in fine pearls and precious stones, as artistic and technical director at Société Bernard Herz until 1940.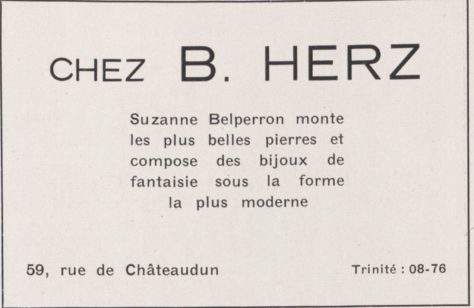 At the beginning of the Second World War, shortly before the anti-Semitic Vichy laws, and at the request of Bernard Herz, Belperron purchased the company and created Suzanne Belperron SARL (1941-1945). In 1943, Bernard Herz was deported to Germany, never to return.
In 1946, Jean Herz, The son of Bernard Herz, returned from the war. Belperron offered – in memory of his father Bernard, for whom she held deep affection – the joint ownership of a company incorporated in equal parts, to be called « Jean Herz Suzanne Belperron ». Belperron assumed the artistic and financial direction of the company until its liquidation on December 31, 1974.
From the 1930s to the 1970s, Suzanne Belperron continuously designed and created, and never once showing any desire to work for another house. She achieved great fame in here lifetime, both in France and abroad. In 1963 she was awarded the rank of Chevalier of the Legion of Honor in 1963 for her services as a « jewelry designer ».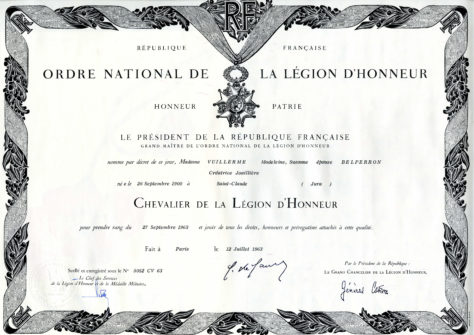 After her retirement, she continued to create pieces just for relatives and close friends. She died in Paris on March 28, 1983. She was eighty-two years old.
Observations on the Belperron style
Her creations reflect a very personal style, a 'signature', even though the designer never signed any of her pieces. « My style is my signature, » she said in a famous quote.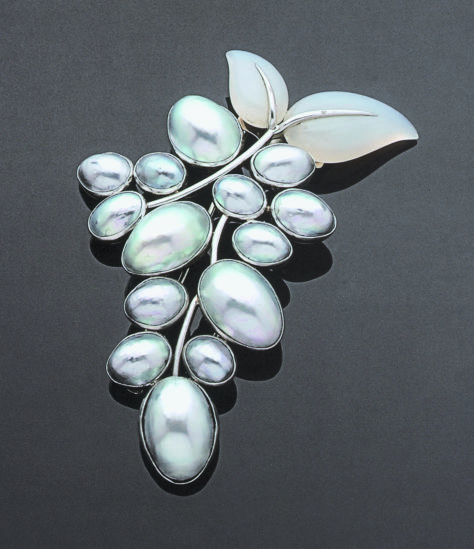 Belperron jewelry is often characterized by the bold choice, for its time, to marry precious stones or fine pearls with fine or ornamental stones. Belperron did not hesitate to set sapphires with chalcedony, diamonds in rock crystal, or silver with hematite, or an amethyst with chrysoprase.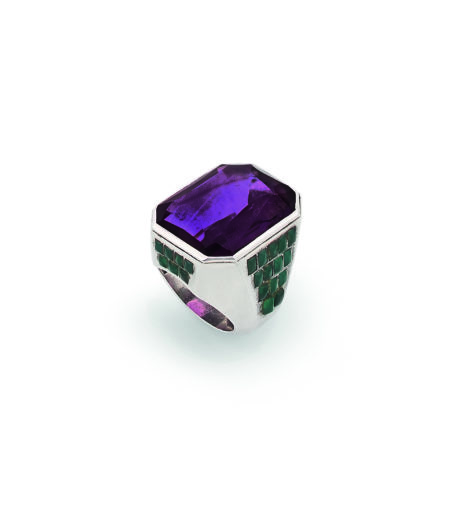 These combinations of colors and materials (transparent, translucent, opaque) created unusual light effects. However, Suzanne Belperron also created pieces that could be described as « high-jewelry » since they were composed of precious materials.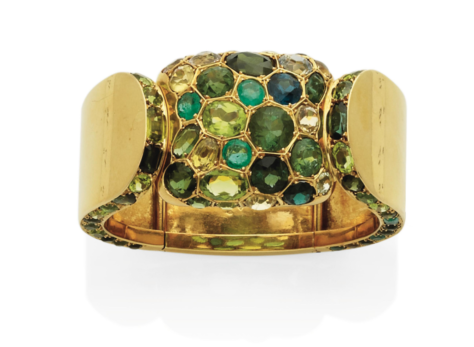 Another characteristic of the work of this avant-garde designer, are the volumes that sometimes border on excess. However, says Olivier Baroin, « even if the jewel is sometimes a little exuberant, it does remains elegant. Madame Belperron's creativity never went beyond the limits of good taste.  » And he adds: « her work is pure and graphic jewelry, but above all sensual, almost carnal ».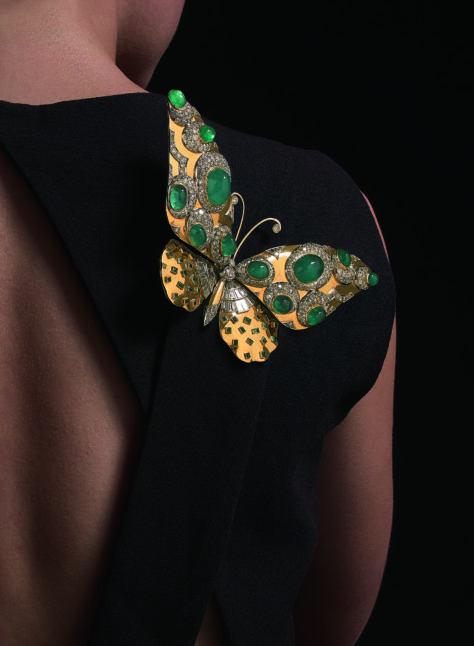 The craze for Belperron's style extended beyond the world of jewelry connoisseurs. For example, Suzanne Belperron was one of the first jewelry designers to be mentioned by name in fashion magazines such as 'Harper's Bazaar' and 'Vogue'.  As early as 1933, Elsa Schiaparelli posed in Vogue adorned in Belperron jewels. Suzanne Belperron's jewelry enhanced the creations of fashion designers – so much so, that designers sometimes feared their creations would be entirely overshadowed!
A designer for the happy few
Belperron's clientele was incredibly varied. It included the members of royal families and the European aristocracy, rich bankers and industrialists, and also actors, artists and writers. Her personal order books show that she received the Duke and Duchess of Windsor, Colette, Jean Cocteau, Nina Ricci, Jeanne Lanvin, Elsa Schiaparelli, Gary Cooper, the Begah Aga Khan, the Baroness Rothschild, Daisy Fellowes, the singer Ganna Walska and Merle Oberon, the beautiful heroine of 'Wuthering Heights', to name a few!
Even today, her creations remain unknown to the general public. For the past ten years, however, they have become in great demand for art dealers, jewelry dealers and knowledgeable collectors.
Philippine Dupré La Tour, director of the jewelry and watch department at Aguttes, explains that Belperron jewels occupy a special place in her work as an expert because often clients who consign a Belperron piece are unaware of its value. « It is therefore a double pleasure: to see these jewels and to unearth them ».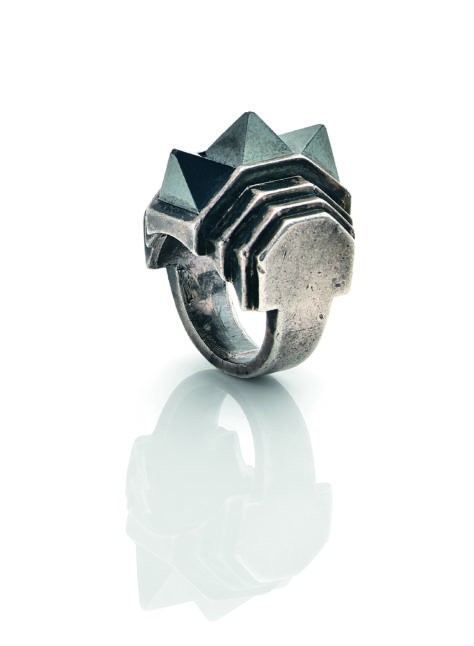 Today collectors of Belperron are a new kind of elite. Olivier Baroin finds that buyers are influenced more by the design of the jewel than by its intrinsic value. « Collectors who appreciate Belperron pieces do not need their jewelry to be set with diamonds; those who recognize her style understand its importance. »
During auctions, buyers are rarely wrong; the most expensive pieces are those that are the most emblematic of the Belperron oeuvre. Karl Lagerfeld, one of the leading collectors of Belperron jewelry, sums it up as follows: « A Belperron jewel can be recognized right away. It's an attitude. »